Luke Skywalker & Princess Leia (Two Pack) – 1/10 Scale ARTFX+ Statue – Star Wars: A New Hope
A Kotobukiya Japanese import! The incredible Star Wars ARTFX+ lineup has already featured some of the most iconic heroes and villains from the Star Wars films, and now it adds another two-pack of beloved characters withLuke Skywalker & Princess Leia! Based on their appearance in the original Star Wars movie A New Hope, the secret siblings look like they've stepped right off the screen and onto your shelf. A farm boy and senator thrust into the conflict between the Rebellion and the Empire, Luke and Leia embody the purity of spirit and optimism necessary to defeat the evil of the Emperor and Darth Vader.
The two future heroes of the Rebellion are captured in some of their earliest appearances fighting against the Stormtroopers of the Empire. Facing down wave after wave of the elite armored soldiers, Luke and Leia stand firm each with his or her weapon of choice. The burgeoning Jedi wears his simple farmer's clothing and advances in a crouch, his newly acquired lightsaber glowing blue in his outthrust left hand. Meanwhile, the confident Princess Leia stands tall in her regal white Senator's gown while wielding a liberated Stormtrooper blaster with both hands. Both figures are remarkably well sculpted with intricate detailing in their clothing and very life-like facial portraits!
ARTFX+ Statues are fun-to-assemble pre-painted snap-fit kits that can be put together easily in seconds without glue or modeling skill. In the 1/10th scale with the other Star Wars ARTFX+ statues, Luke and Leia stand just below and above 6 inches tall respectively and feature magnets in their feet for extra stability on their included bases. Luke Skywalker and Princess Leia are the perfect addition to your Star Wars collection, and they look fantastic alongside previously released classic trilogy statues like Han Solo and Chewbacca or the Imperial Stormtrooper Army Builder 2-Pack!
Features
Manufacturer: Kotobukiya
License: Star Wars
Material: PVC (Phthalate-free), ABS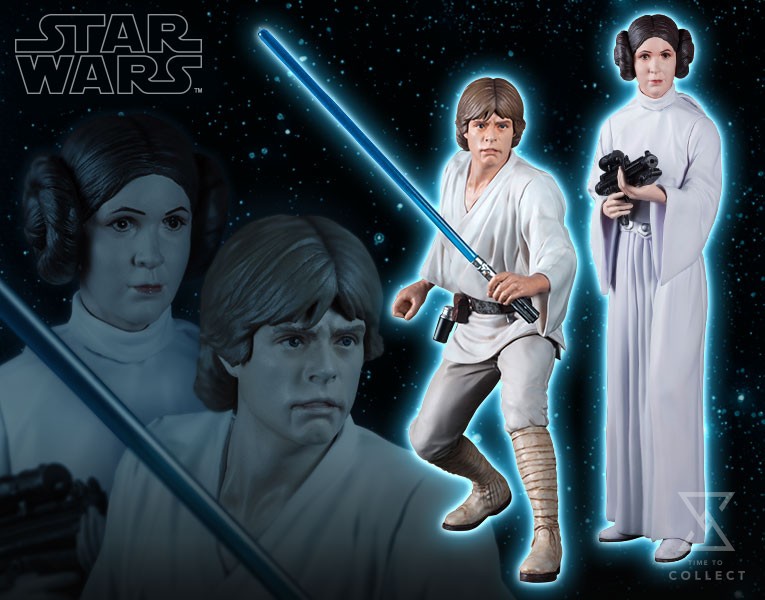 Copyright © 2020-present Koto, Inc. All rights reserved. https://en.kotobukiya.co.jp
© & ™ Lucasfilm Ltd.