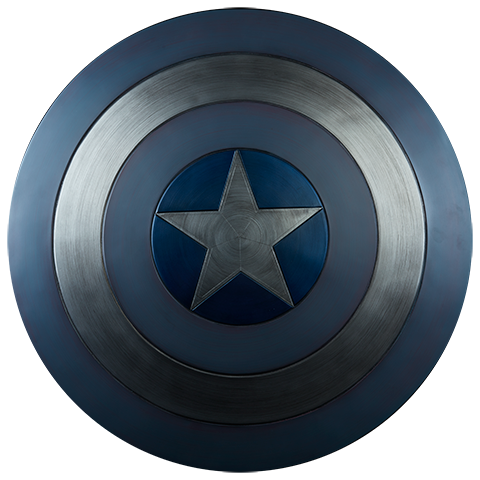 At the beginning of Marvel Studio's Captain America: The Winter Soldier, Georges Batroc, a French-Algerian mercenary, pirate, and martial artist, and his group of pirates has attacked the Lemurian Star and has taken the technicians and Jasper Sitwell, the field officer, hostage with a ransom of 1.5 billion dollars. The Lemurian Star is a S.H.I.E.L.D. ship designed to launch targeting satellites.
Ninety-three minutes later, Captain America, Black Widow, and Brock Rumlow lead the S.T.R.I.K.E. (Special Tactical Reserve for International Key Emergencies) team to retake command of the Lemurian Star and free the hostages. For this mission, Captain America is dressed in his stealth uniform, which comprised a modified shield. Captain America took his iconic red, white (silver) and blue shield and painted on blue details to transform it into his "Stealth" shield.
Utilizing master patterns cast from the original molds used to make the screen-used prop, EFX's engineers, model-maker, and artists have produced a faithful recreation of the iconic Shield that Steve Rogers uses in Captain America: The Winter Soldier. The paint detail is screen accurate, as well, with a fully painted classic shield underneath the blue "stealth" detail!
Brand

Marvel

Manufacturer

EFX

Type

Prop Replica
WHAT'S IN THE BOX?
The Captain America "Stealth" Shield 1:1 Scale Replica features:
Full-scale replica of the "Stealth" shield seen in Captain America: The Winter Soldier
Limited Edition: Only 250 pieces worldwide
Master pattern for shield cast is from the same mold as the original scree-used shield
High-quality fiberglass and metal
Genuine leather straps
Accurate 2 piece construction
EFX wall display
Numbered metal plaque
Prop Story
Certificate of Authenticity
Custom carrying case
ADDITIONAL DETAILS & DIMENSIONS
Materials
Product Size

Height: 24″ (61 cm)
Weight: 10.00 lbs (4.5 kg) *
Box Size

Height: 11.00″ (27.9 cm)
Width: 31.00″ (78.7 cm)
Depth: 31.00″ (78.7 cm) *
Shipping Weight

20.00 lbs (9.1 kg)
SKU

903053

UPC

844818000711