Luke Skywalker – 1/10 Scale ARTFX+ Statue – Star Wars: Return of the Jedi
A Kotobukiya Japanese import! The incredible Star Wars ARTFX+ lineup continues to feature the most iconic heroes and villains from the Star Wars films, and now it adds a classic hero withLuke SkywalkerReturn of the Jedi Version! No longer a mere learner, Luke in Episode VI has trained with Yoda and is a full-fledged Jedi Knight on a mission to stop his father and the Emperor. Trading in his Endor camouflage, he surrenders to Darth Vader in an all-black outfit with black boots, a dark brown belt, and a black glove covering his artificial right hand. Skywalker is frozen in a battle stance, stepping forward with his right leg while slashing his green lightsaber in front of him. His face reveals his fierce determination to defeat the Dark Side and save his friends, and Kotobukiya has produced a Mark Hamill likeness that's like nothing you've seen before in this scale. In fact, every detail has been lovingly rendered from the creases in his clothing to the accessories on Luke's belt, his feathered hair, and more. And as a special bonus this Luke Skywalker comes with bonus parts to change the pose of the previously released Darth Vader ARTX+ Statue (sold separately) so you can recreate their duel from Return of the Jedi!
ARTFX+ Statues are fun-to-assemble pre-painted snap-fit kits that can be put together easily in seconds without glue or modeling skill. In the 1/10th scale with the other Star Wars ARTFX+ statues, Luke Skywalker Return of the Jedi Version stands just under 6 ½ inches tall and has magnets in his feet for extra stability on the included metal base. Whether guarding your shelf on his own, standing alongside other Star Wars ARTFX+ Statues from Kotobukiya, or posed in battle with his father Darth Vader this Jedi Knight will be the perfect addition to your display!
Features
Manufacturer: Kotobukiya
License: Star Wars
Material: PVC (Phthalate-free), ABS, Magnet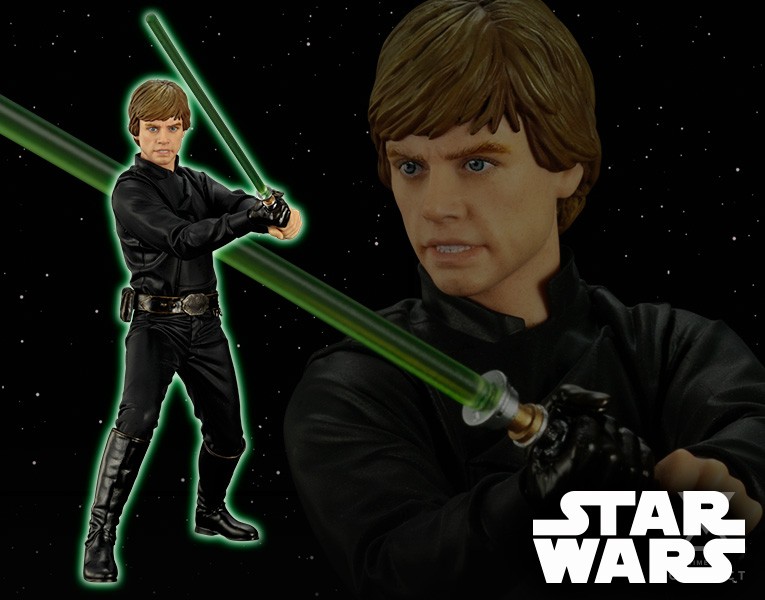 Copyright © 2020-present Koto, Inc. All rights reserved. https://en.kotobukiya.co.jp
© & ™ Lucasfilm Ltd.