Ultimate Premium Masterline
Deluxe Version:
One (1) Swappable deluxe Batman Portraits (Closed Mouth)
Two (2) Swappable deluxe Killer Croc Portraits (Long Mouth, Short Mouth without Tongue)
Prime 1 Bonus Part:
One (1) Swappable Batman Rebreather Portrait
You're just in time… cuz the bird wasn't enough. And now I'm hungry for bat. – Killer Croc
The epic Batman vs. Killer Croc diorama, erupting in the dark depths of Gotham City's sewers, has been intricately brought to life. This Ultimate Premium Masterline rendition showcases the relentless struggle between Batman, the city's guardian, and the formidable Killer Croc, all captured with striking detail. Witness the intense confrontation that unfurled in the underbelly of Gotham – Batman vs. Killer Croc. This Ultimate Premium Masterline collectible reimagines the visceral clash between the iconic Dark Knight and the monstrous Killer Croc with impeccable craftsmanship. In this dynamic statue, Batman takes on Waylon Jones, aka Killer Croc with just his bare hands and a chain in the dark underground sewers of Gotham. The massive reptillian creature suffocated by the Dark Knight flounders in the rancid sewege waters as debris hurtles around them. Every muscle, wound, and chain is meticulously sculpted, encapsulating the ferocity of their battle. The base, designed to replicate the grimy sewers of Gotham, evokes an atmosphere of unease with splashing water, scattered debris, and even watchful rats.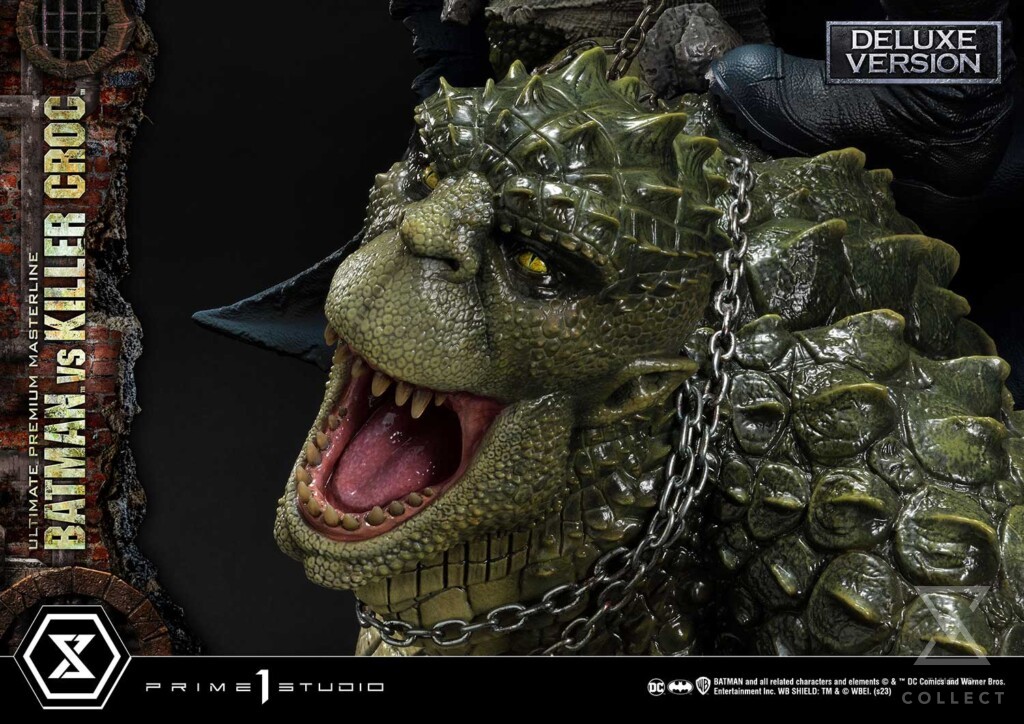 The Deluxe Version of this collectible offers an extra layer of versatility. Both Batman and Killer Croc come with swappable head parts, enabling collectors to choose from a range of expressions that add depth to the display. The sculpted details capture the various illustrated depictions of the Killer Croc. This version is a must-have for those who appreciate the finer nuances of this epic showdown. The Bonus Version includes a significant addition: Batman's rebreather head, a critical accessory that takes this underwater battle even deeper. This unique piece is only available through our official online store or authorized retailers and amplifies the exclusivity, making it a must-have for avid fans. Get ready to relive the sparks flying in this savage sewage battle, as the Dark Knight confronts the mighty Killer Croc. This collectible offers a stunning display of their high-stakes confrontation, meticulously sculpted to perfection. Don't miss out on this extraordinary narrative collector's gem that adds an extra layer of excitement to your collection room.
x
Specifications:
Product Weight Approx.: H:71cm W:59cm D:54cm
Gotham Sewer-themed base
Two (2) Swappable Batman Portraits (Open Mouth, Closed Mouth)
Three (3) Swappable Killer Croc Portraits
Product Carton Boxes Approx.: 30,2 kg
Carton(Est.): 2 boxes
Material: Polystone and other materials

Expected To Ship: February 2025 – Apr 2025