Megatron On Throne Ultimate Diorama

About the character
Megatron, a complex and iconic character in the Transformers franchise. The primary antagonist and leader of the Decepticons (a faction of sentient alien robots), he is defined by his unwavering ambition, ruthless determination, and his relentless pursuit of power. As the leader of the Decepticons, Megatron is a formidable and strategic warrior. He possesses superior strength, intelligence, and tactical skills, making him a formidable adversary for the Autobots. Megatron is willing to go to great lengths to achieve his goals, often resorting to violence and manipulation to further his plans of domination.
About The Statue
This limited edition collectible Megatron on Throne statue captures the antagonist leader of the Decepticons as he appeared in Transformers: Dark Of The Moon. Sitting in Lincoln's chair just moments after destroying the iconic monument, Megatron extends his left arm while resting his right arm on his fusion cannon. Masterfully crafted, the QS team has painstakingly recreated every detail, from the battle damage on his armor, to his intricate wiring and mechanical parts beneath. This piece is a salute to one of the most infamous villains in pop culture.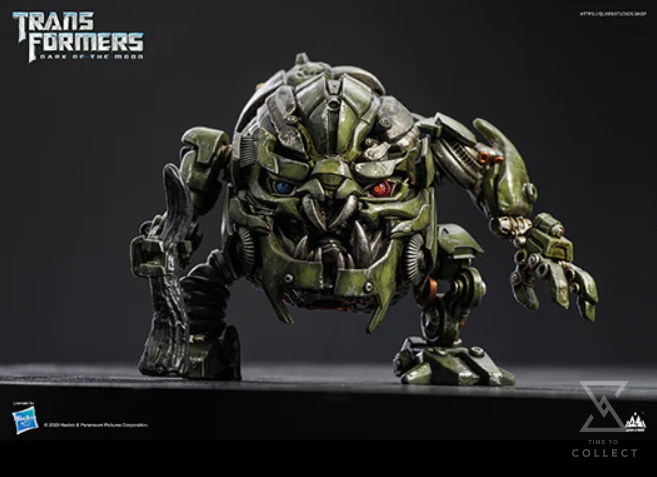 About The Statue and Base
The design of the base is inspired by the pyramid seen in the final battle during the second Transformers movie. The collapsed stone pillars and pyramid walls of the base highlight the chaos create through Optimus Prime and Megatron's feud, but also creates an overall sense of space and gives a further realistic aesthetic to the statue. Megatron has a total of 4 LEDs installed, two red eyes, a light blue LED underneath a pair of vents on the back, and a single light blue LED in his hand muzzle; Optimus Prime has one set of light blue LEDs in his eyes.
Specifications: