Nazgul on Horse (Deluxe) – 1/10 Art Scale – Lord of the Rings
Serving the Dark Lord of Mordor in the search for the One Ring, terrifying shrieks announce their presence, riding a sinister dark horse with red eyes, in the margins of the Ford of Bruinen ("Loudwater"), one of the nine most horrible servants of Sauron draws and raises his sword with his right hand, while holding with the other the short reins of his frightful steed to control it, ready to continue his victim's chase, the carrier of the One Ring, to fulfill his mission of retrieving the most powerful of the twenty rings of power to return it to his master and creator. Thus, Iron Studios present the statue "Nazgûl on Horse Deluxe -The Lord of the Rings – Art Scale 1/10" with one of the most feared enslaved Dark Riders of Sauron in Middle-earth over their bestial mount as portrayed in the memorable classic cinematographic trilogy, adapted from the work of J. R. R. Tolkien, by the screenwriter, filmmaker, and producer Peter Jackson.
Reaching immortality as ghosts, where their own essence turned into torture, nine great kings of the humans succumbed to the power of Sauron, when each received one of the nine Rings of Power. After many years, the power of the rings transformed them into specters invisible to all but to Sauron and to anyone who wears the One Ring, that will be able to see them in their spectral form, as pale figures with burning eyes, gray hair, and silver helmets. They travel covered in black capes and silver armor which give them a similar shape to Grim Reapers. They are considered to be the lieutenants of Sauron's armies, the most notable of them being the Witch-king of Angmar, the deadliest warrior in the forces of Mordor. In the movie trilogy made by Peter Jackson based in The Lord of the Rings, all of the nine Nazgûl are shown, and while chasing the hobbit Frodo and the elf Arwen, the moment the heroes cross the river Bruinen, in the frontier of Rivendell, Arwen conjures the waters to create a flood and stop the Nazgûl, something that happens to the waters that give it the shape of a stampede of horses, which swept away the specters of the ring, making them lose their steeds.
Already available for Pre-Order, revealed firsthand on the show Inside Iron Studios Day of April on YouTube, Nazgûl on Horse is an exclusive statue of The Lord of the Rings line by Iron Studios, presented in the year that Peter Jackson's trilogy completes 20 years after its conclusion with the movie "The Lord of the Rings: The Return of the King" in 2003, fans and collectors might have other big surprises. Stay tuned for exclusive news on Iron Studios' social media and YouTube channel.
Features
Manufacturer: Iron Studios
License: Lord of the Rings
Made in polystone (may contain parts in resin, polystone, PVC, metal and fabric)
Hand painting
Product Weight: 4.4 lbs (2.0 kg)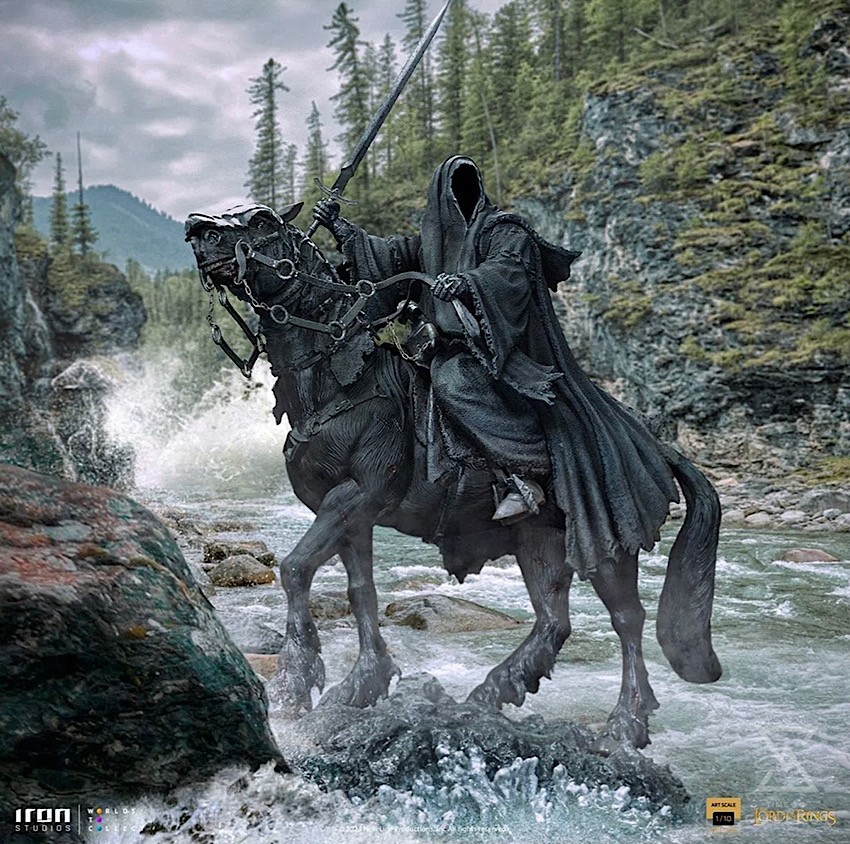 © 2019 Iron Studios Collectibles. All Rights Reserved. https://ironstudios.com