Obi Wan Kenobi – 1/10 BDS Art Scale – Star Wars: Obi-Wan Kenobi
Over the arid terrain of a nameless rocky moon, during the Empire's reign, a once powerful Jedi master faces his former disciple in a fight in a labyrinth of stone plateaus. Battling a Sith Lord, his relentless adversary is driven by hatred and fed by the Dark Side of the Force in his search for revenge. The old knight, although hurt, duels with his Lightsaber, motivated by the memories of the young twins Luke and Leia, whom he sworn to protect, he then overcomes the pain, reconnecting himself with the Force, and once again beats his former apprentice against all odds. From the praised Star Wars spin-off show from the streaming service Disney+, Iron Studios proudly present their statue "Ben Kenobi – Obi-Wan Kenobi – BDS Art Scale 1/10", inspired by the sixth and last episode on the first season of the Obi-Wan Kenobi show, that completes the diorama set next to the statue of his rival Darth Vader, previously presented on May the Fourth, in celebration of the Star Wars Day.
After the Empire's ascension and the transformation of Anakin Skywalker into the Sith Lord Darth Vader, Obi-Wan Kenobi took one of Anakin's twins, Luke, without Anakin knowing about his existence, to the arid planet Tatooine, where he left him to be raised by his uncles, while Luke's sister, Leia, was left with the Viceroy of Alderaan, Bail Organa, in order to protect both and stop them from following the dark path of their father. Adopting the alias of Ben Kenobi, he remained in exile in Tatooine to protect Luke, while Leia was raised as Bail's daughter, and princess of the royal family of Alderaan. Obsessed in finding his former master to get his revenge, Darth Vader ordered his Inquisitorius agents, a group of hunters and former Jedi­­ that have surrendered to the dark side of the Force, to find Obi-Wan. But when he was finally found, the most powerful and menacing dark knight of the Empire demands that his crew readies the starfighter and leaves to fight Obi-Wan on his own.
Already available for Pre-Order, presenting incredible realism and fidelity to the face features of actor Ewan McGregor that returned to his role as Jedi Master on the show from Disney +, Obi-Wan is seen in detail on the monthly show Inside Iron Studios Day of June. The statue completes the diorama set with the previously mentioned statue "Darth Vader – Obi-Wan Kenobi – BDS Art Scale 1/10" from Iron Studios, also available for Pre-Order. Check out more Star Wars releases soon and much more from Iron Studios on their social media and on the monthly show Inside Iron Studios Day on YouTube!
Features
Manufacturer: Iron Studios
License: Star Wars
Limited Edition
Made in Polystone (may contain parts in resin, polystone, PVC, metal and fabric)
Hand Painted
Product Weight: 1.6 lbs (710 g)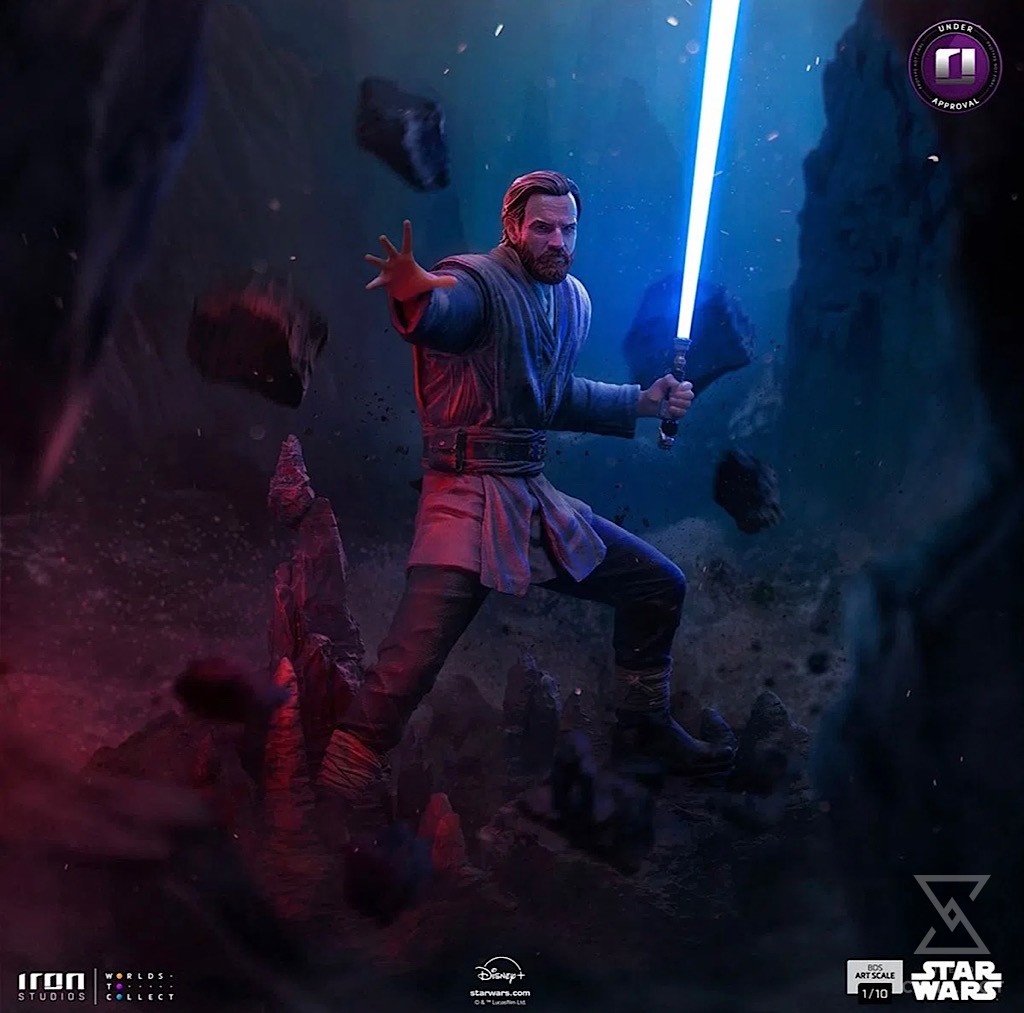 © 2019 Iron Studios Collectibles. All Rights Reserved. https://ironstudios.com