Quarter Scale Statue
Pre-Order before 7 March 2023, 12pm SGT (UTC+8) to receive a collectible Display Plaque as your early bird pre-order gift!
XM Studios is excited to present our next 1/4 scale Marvel Premium Collectibles series statue, Wolverine (X-Force)! Each painstakingly handcrafted statue is individually hand-painted with the highest possible quality finish. Wolverine is in mid battle as the mechanical tendrils coiled around his foot while he stands on a weathered destroyed base. This dynamic, powerful pose features Wolverine in a full mask on as he delivers an upward attack, slicing the tendrils and leaving it in pieces. Wolverine's X-Force black-themed costume is battered with scratches and battle damage dealt from the fight. Scars can be seen on the half-torn switchout head portrait. XM team modernized the costume with textured mesh details and panels and the team's paint application further accentuates Wolverine's musculature and the veins and hair on his arms. Comes in Version A and Version B; Version A shows Wolverine in the upward attack torso with its respective two portrait switchouts – one fully masked with a gaping mouth and one half-torn mask, a gaping mouth, revealing Wolverine's blue eye.
Version B comes with an additional switchout torso that shows Wolverine in a taunting pose with arms on his side and its respective 2 additional head portraits – one fully masked with clenched teeth and one half-torn mask, clenched teeth, revealing Wolverine's blue eye. A base is included to display the torso separately. Collectors can display Wolverine (X-Force) with Apocalypse and Archangel, with similar bases featuring hieroglyphics-inspired elements.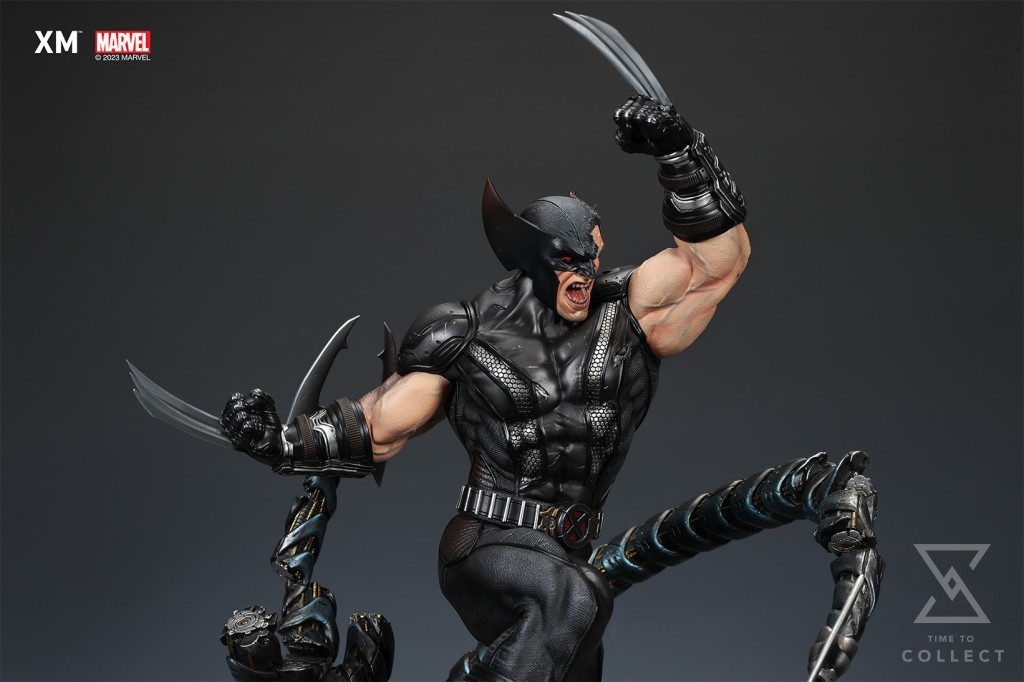 x
Version A features:
One (1) torso: Wolverine in upward attack motion
Two (2) head sculpts: 1 fully masked with gaping mouth, 1 half torn mask with gaping mouth
Highly detailed sculpt featuring Wolverine (X-Force) in mid battle
Crafted in Polystone
Each painstakingly handcrafted statue is individually hand-painted with the highest possible quality finish
Artists:
Rafa Sandoval (2D)
Alan Sales (3D)
XM Studios Design and Development Team
Product and Box Dimensions:
Product Size: 39 x 37 x 50cm
Est. Box Size: 80 x 60 x 30cm
Est. Product Weight: 10kg
Est. Shipping Weight: 13kg